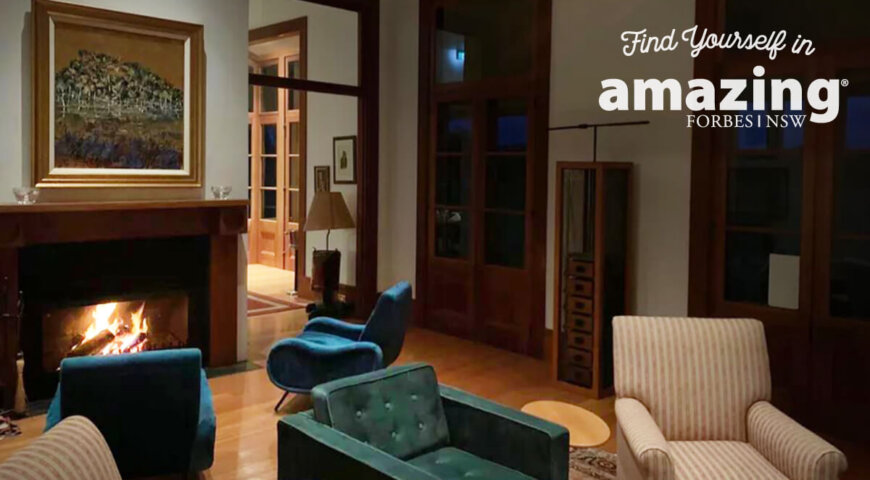 WINTER 2022: Heat up as temps get low… ❅
Winter is a time where we really get to slow down – there isn't all the hustle and bustle that we've come to know at Christmas time. And, unlike summer where we are constantly doing things and going places, and needing to be everywhere all at once, trying to see everyone and do everything; in winter, we can just stop, sit back and relax a little more.
Obviously there is still the usual daily grind for most of us, but winter time seems to be a lot more "chill"… (see what we did there??)
Heading to the country for a warming winter getaway may be just what the doctor ordered. Imagine spending your evenings relaxing by a warming fireplace, with a lovely glass of red (from one of several regional wineries in the area, no less!), and your days filled with fun and exciting activities to do and "amazing" attractions to see!
So, when will you Find Yourself… in Amazing Forbes?
While the world is beginning to open up again for travel, we best not forget what we have in our own backyard. There really is so much on offer in regional Australia, and we certainly don't want to lose it. So make sure you include a trip to the country (Australia) in your -near- future travel plans, and discover the beauty and tranquility of an Aussie country winter.
Amazing Forbes is the perfect location to set up camp (whether camping is your thing, or you prefer a nice warm bed awaiting you), and explore many more of the beautiful and intriguing towns that make up the Central West of NSW. Be warned, though – you'll definitely need more than just a few days. Or maybe a few return visits will be required to check everything off your list!
We know it may be hard to get out on the road when it's that bit cooler, but there is plenty to do to keep you active and warmed up, and we promise you that it's a beautiful time of year to visit.
And if you don't already know, winter is when we throw our favourite fiery party – Frost and Fire! Get all the "hot" goss below!
Now there's really only one question…
Why not Find Yourself… in Amazing Forbes this winter?
Frost and Fire returns for its third year and once again promises to bring you all the delights of a country bonfire night with extra trimmings!
After being named a finalist in the NSW Tourism Awards in 2021, Amazing Forbes is excited to be bringing back the fiery fun to warm up your winter.
Frost and Fire is all about celebrating the Winter Solstice – and what better way than under starry skies in Forbes in Central NSW? It really is just like an old-fashioned country bonfire night, but with extra flare. If you haven't been privileged to experience one, you've been missing out! And this is a great chance (and excuse) for a country weekend getaway, and throw in a fiery fun festival with great Aussie music and thrilling live entertainment for good measure.

As temps reach frosty lows, warm up and chill out with us and enjoy a night of hearty foods, boutique brews, live music and entertainment, and Wiradjuri cultural performances, all by warming fire buckets on the banks of Lake Forbes.
Entertainment on the night will include music from talented Forbes locals Emily Pavey, Clynton Breen and Jo Stephenson to kick things off at 4pm.
A cultural welcome, including smoking ceremony, will be performed by Forbes' own Wiradjuri dance group, River Spirit Dancers, and a Wiradjuri Welcome will be given by Elder, Aileen Allen.
Other entertainment includes the sounds of Josh Maynard from Cowra, and Bathurst duo, Smith & Jones, together with their band, will play an undefinable mix of originals and folk tunes to get you warmed up even more.
The main fiery event will leave you feeling warm and toasty, and maybe even a little nostalgic with the lighting of the Effigy (our grand bonfire structure). Plus there will be plenty of other fiery action from Sydney Fire Dancers with roving fire performances, plus feature acts from a duo of fire eaters and a fire breather to really light things up and keep you entertained!
And of course, not to be missed, and taking us through to the end of the night, is our incredible headline act, beloved Aussie Rock Band Thirsty Merc who will charm you with all your favourite songs to heat the night up!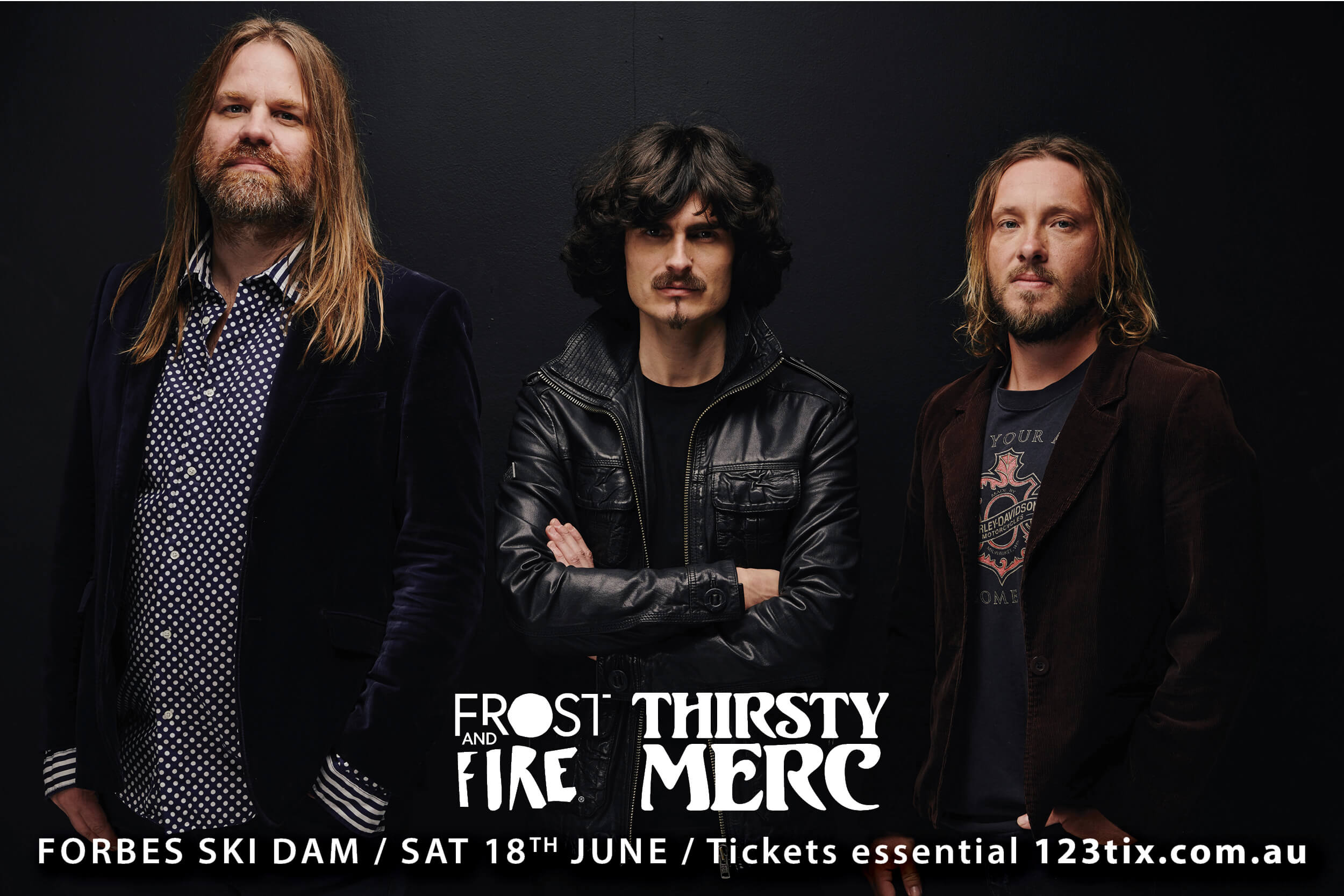 EVENT DETAILS
All the action takes place at the Forbes Ski Dam on Saturday 18 June, from 4pm-10pm. So be sure to get your tickets quick so you don't miss out!
Tickets are available at www.123tix.com.au.
Tickets are $15 for adults (18+).
Under 18 years are free.
FREE shuttle bus services will be running to and from the event throughout the night from Town Hall (Harold Street), and the Renfree Street carpark (opposite Woolies carpark).
*Booking fees apply
Discover NSW vouchers can also be used for your event entry tickets – use them before they expire at the end of June.
Winter is coming... are you?
Frost and Fire is the perfect evening to unwind for a truly unique experience.
Or, why not stay the weekend (or longer) and really Find Yourself… in Amazing Forbes this winter?

TICKET & MERCH GIVEAWAY!
If you're keen to join us to celebrate the Winter Solstice, we are giving away the ultimate Frost and Fire pack!
Up for grabs is:
4 event tickets for 18 June 2022
Merch bundle of 4 Beanies, 2 Stubby Holders and 2 reusable cups
All you need to do is FOLLOW Amazing Forbes NSW on Facebook, LIKE the giveaway post and TAG 1 friend in the comments.
The winner will be drawn on Wednesday 1 June and contacted via DM.
Merchandise is available for purchase now at the Forbes Visitor Information Centre, Railway Station, Union Street and will be on sale from the merchandise tent at the event.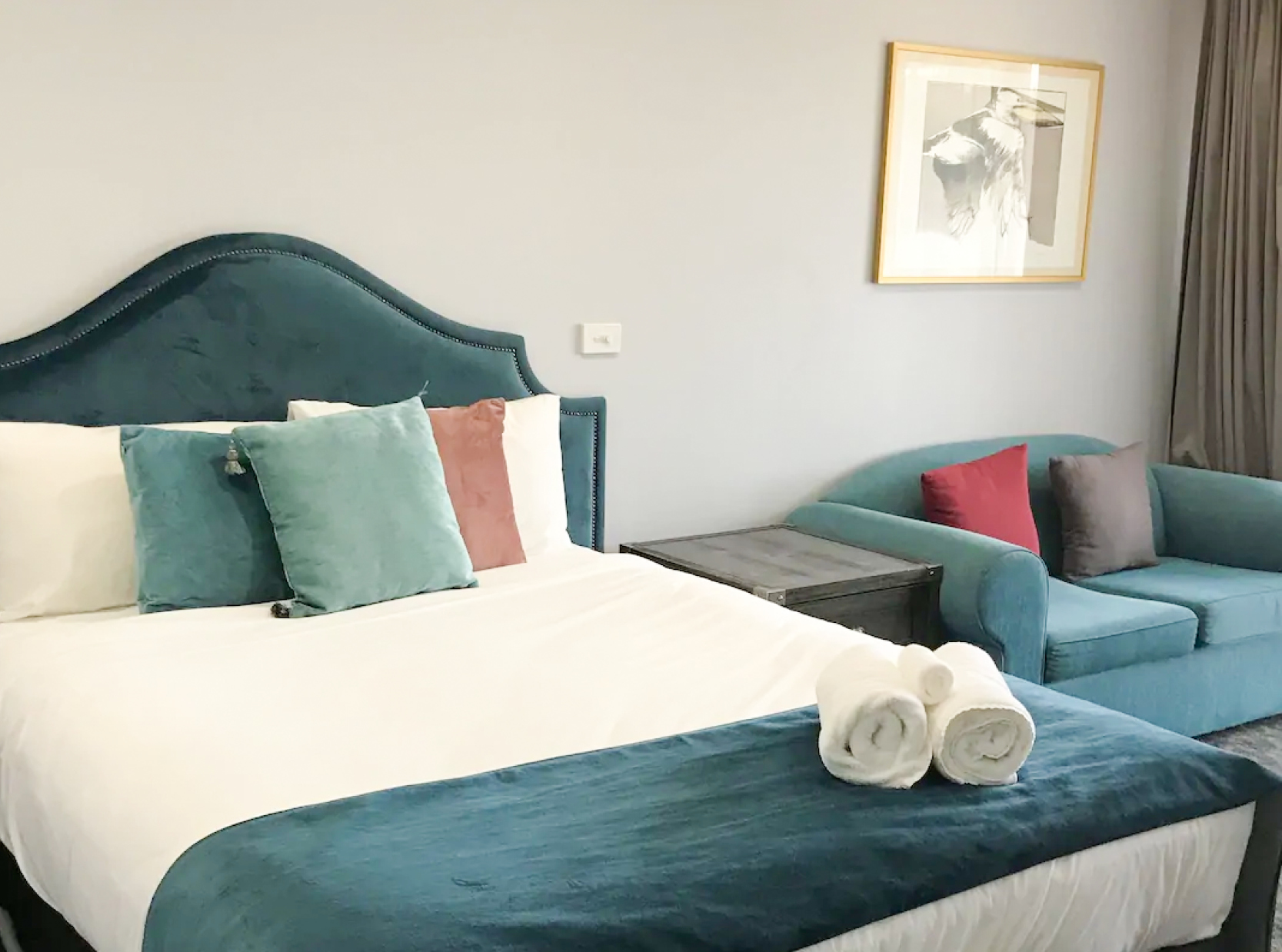 Have you been dreaming of a country escape? Well, we think you should put "country" Australia and "country" NSW on your list of must-visit destinations. Amazing Forbes, in Central NSW, is the perfect place to pull up, unwind, enjoy a few days of leisurely activity, get back to nature, and truly "find yourself", and maybe even a new favourite locale or hobby.
It is also a great central location to explore so much more of what makes up Central NSW. Base yourself in Forbes for day trips to Parkes, Cowra – via Eugowra and Canowindra, and return via Gooloogong (or vice versa), West Wyalong, Grenfell, Orange, and even Bathurst!
Discover the Sculpture Down the Lachlan public art trail and follow it all the way to Condobolin, checking out the Utes in the Paddock while you're there.
To fit all this – and more – in to your itinerary, you'll need a few days… and nights!
Forbes boasts a selection of accommodation options for all types of travellers. Whether you're a bit partial to a cosy BnB – better yet, one with a warming fireplace; love a good, comfy motel room close to the action, or have a "home away from home" on wheels…
With seven motels – all relatively close to the town centre, four caravan parks – including cabins if that's more your thing, and a range of quaint BnB's or self-contained options to suit your travelling style.
There is so much to see and do as you EXPLORE… Amazing Forbes. From art trails, including murals, around the town, heritage walks, museums – of the historic and motoring kind, beautiful nature reserves, a biscuit factory, and so much more.
Discover the travels of infamous bushrangers and the likes of our boutique retail stores unique to our town. And speaking of shopping, if you're in need of some winter woolens -made locally- we have you covered there, too.
So swap your concrete jungle view and peak hour traffic for a cosy cottage and a brilliant nature view, and slow the pace down a notch… or two. Pack your bags and hit the road – your Central West adventure awaits! Stay as long as you like, and do as much or as little as you like. 
The choice is yours to make, the experience yours to enjoy.
Stay NSW vouchers can also be used at selected accommodations in Forbes – use them before they expire on 9 October 2022. Participating venues can be found here. Just select "Stay NSW" voucher type, and add 2871 to search.
You really must Find Yourself… in Amazing Forbes this winter.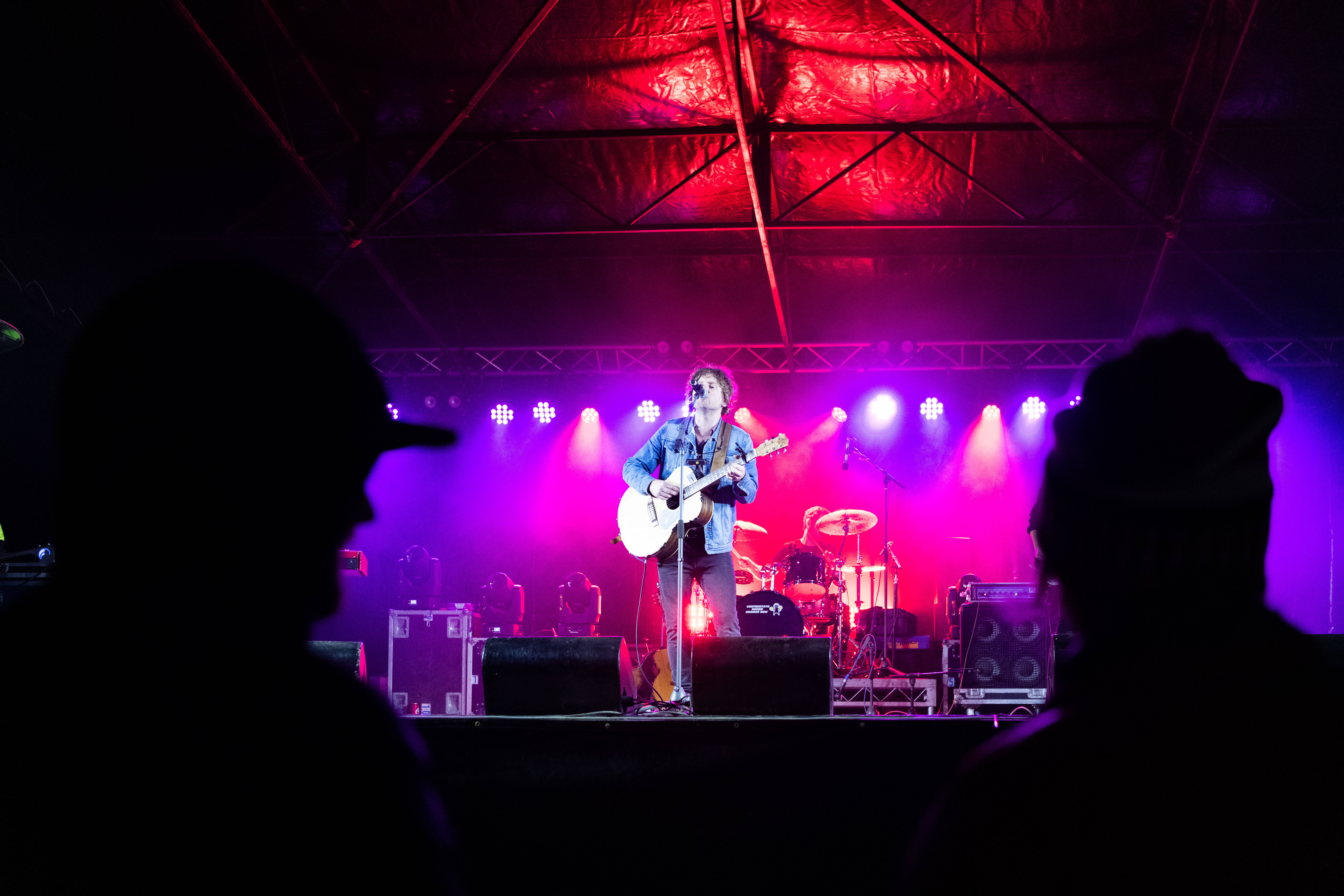 Why not find yourself at one of our amazing events this winter?
Frost and Fire
Saturday 18 June | 4-10pm | Forbes Ski Dam, Bedgerabong Road
Tickets available through 123tix.com.au | $15 Adults | Under 18 years FREE | FREE shuttle buses running between town and the event site (booking fees apply) | Use your Discover vouchers (event entry tickets only)
A celebration of the Winter Solstice. Lakeside and fire side, with hearty food and boutique brews and an array of memorable live music and action-packed entertainment.
Stage Spectacular with Master Illusionist Sam Powers
Friday 5 August | Doors open 6.30pm | Forbes Town Hall, Harold Street
Tickets available through 123tix.com.au from 1 June | Price TBC (fees may apply)
Five-time "Magician of the Year" award winner, Sam Powers, is bringing his illusion show to Forbes.
A spectacular showman with a style and flair all his own, his visually compelling feats have been refined to perfection, making illusions once pioneered by great magicians of old, fresh and accessible to modern audiences.
Be sure to catch him before he disappears!
Also witness roving magicians who will bring some more fun and entertainment to Stage Spectacular!
Catch them performing throughout the night, including during intermission and before and after the main event.
Catering will be provided, and drinks will be available for purchase.
NSW Small Wine Makers Wine Show
Judging Monday 22 – Wednesday 24 August / Exhibitor and Public Tasting Friday 26 August | From 6.30pm |
Forbes Town Hall, Harold Street | Tickets $30 available from 1 August at 123tix.com.au (fees may apply)
NSW Small Winemakers Wine Show has been celebrating the NSW and ACT small wine producers since 1992.
The Wine Show is open to all NSW and ACT wine producers that crush a maximum of 500-tonnes annually, and entries open on 14 June this year.
Wines entered into the show will be available for tasting at the Public Tasting on 26 August, with Wine Show organisers on hand to assist you and provide details on the different varieties.
If you find a drop that you fancy, hand outs will be available on the night from the producers, and most have online sales available.

Plan a country trip and Find Yourself… in amazing Forbes today!