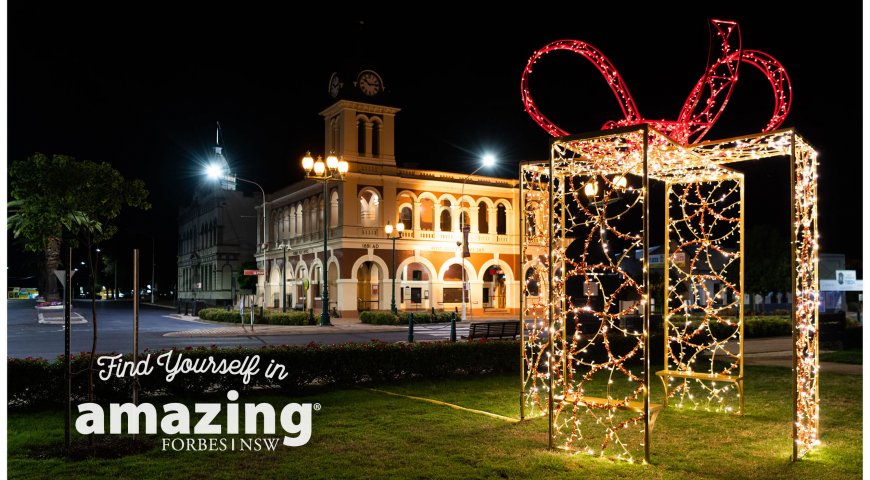 SUMMER 22/23: The Heat is On ☼
Spring has had our parks and gardens looking beautiful this year – with all the rain, the flowers have been blooming and bright.
However, the warmer weather has taken its time to hit its stride. And the wet weather has really played havoc on our region.
There have been a few delightfully sunny days in between sun-showers and storms, but it has been a fairly mild (and even cold), and unfortunately very wet springtime this year.
But summer is coming, and so is Christmas, and, we hope, a bit of a reprieve and some warmer days. If you're planning a holiday getaway, we think you should consider Forbes and Central West NSW for your summer escape…
Many residents within our region would have a fairly similar Christmas wish this year – to be able to return home, or to be able to reopen their businesses. But, for some, that dream may not come true.
Likewise, the people of Central West NSW will be hoping to wipe the slate clean in the new year and try to start rebuilding the amazing and incredible communities that we are so lucky to be a part of.
Why not put Amazing Forbes on your itinerary for a visit some time this summer and maybe even spread some Christmas cheer here this year (even belated)?
Unfortunately, Forbes, as well as its surrounding regions, has had more than its fair share of rain this year and the Lachlan River has been full and overflowing. Farms, crops, roads and even homes and businesses have been heartbreakingly affected by how much water has been around.
With lengthy road closures and water levels rising and falling, and two major flood peaks to top it all off, Forbes has missed its visitors who have had to bypass or put their trips on hold completely for the time being.
After the drought, plague, pandemic and recent rains and flooding, this beautiful community and town would love you to come visit and support them to get back on their feet. Grab a bite, or coffee, at one of the lovely eateries, say g'day to the boutique store owners – maybe finding a treasure or two in store, and spend a day – or more – discovering all that Amazing Forbes has to offer. Or simply support the local communities in our region by purchasing your Christmas gifts through online stores from businesses in these flood affected areas. Check them out here.
When the time is right, find your accommodation and book your STAY… in Amazing Forbes, check out a few cafes and restaurants for your mealtimes to DINE… in Amazing Forbes, and get ready to EXPLORE… Amazing Forbes!
It has been a hard time for this beautiful town, and the region. And this wider community is reeling from the devastation that this weather event has caused.
And though we know we're not alone – and our hearts go out to those other communities that also continue to be affected by terrible storms and other catastrophes – the community of Amazing Forbes truly is amazing when it comes to rallying together to make sure the town and every single person here is in the best – and safest – position possible to ride out whatever is thrown at it. That's what community – and country life – is all about.
So, why not Find yourself… (or something special) in Amazing Forbes this summer!?
You might just put a smile on someone's face and make their Christmas 2022 wishes come true…

New Art Hub:
Where Heritage meets Contemporary
There have been some big works being undertaken right in the heart of Forbes – bringing an old, run-down building back to life and giving it a new purpose.
The old Forbes Ambulance Station that was destroyed by fire and which has been sitting empty for just over 2 decades is now receiving a facelift and the opportunity to once again become an important and iconic part of the Forbes community.
The Ambulance Station building (which was also previously the home to the Bank of Australasia) is one of the town's historic buildings and part of the Centenary of Federation Heritage Trail. Originally built in 1920 and operating for approximately 56 years as the Forbes Ambulance Station, it is embedded as a major part of the history and story of early Forbes as a town and shire.
Now, with a little bit of TLC and a lot of creativity, the building is being given a new lease on life as the new Art Gallery by the Forbes Arts Society (FAS). The FAS was established in 2009 by local artists passionate about celebrating the arts. The exciting move from the previously known "Platypus Gallery" to this new "hub" will not only benefit the Society and its members, but also the community and all who will visit the new facility upon its completion.
The facility will house open area galleries, plus workshop, meeting and event spaces and an on-site cafe in its two-storey structure. The cafe will be fully accessible with a seating capacity for 25 guests, and an outdoor dining area in the courtyard with a capacity to seat 50+ guests.
The works to establish this new Cultural Centre are expected to be complete in 2023. They have been funded by the $7.2M "Boosting the Lachlan Valley Economy Art Project" which is also funding the renovation works at the Forbes Wetlands (Gum Swamp Wildlife Refuge) and the exciting project that is the Sculpture Down the Lachlan public art trail which is nearing completion itself.
The entire project is proudly funded by several bodies including the NSW Government's Regional Growth – Environment and Tourism Fund, the Forbes Arts Society, Forbes and Lachlan Shire Councils and Evolution Mining.
The new Forbes Cultural and Arts Centre will be another "amazing" addition to the streetscape and attraction offering of Forbes.
Gallery Forbes reached an exciting milestone recently, with the striking spiral staircase installed in the main foyer via the roof. Designed by Source Architects, the 4.1-tonne steel piece was fabricated by Lumax Engineering in Bathurst and installed by Blayney Cranes.
Images (above and below) courtesy of Forbes Arts Society.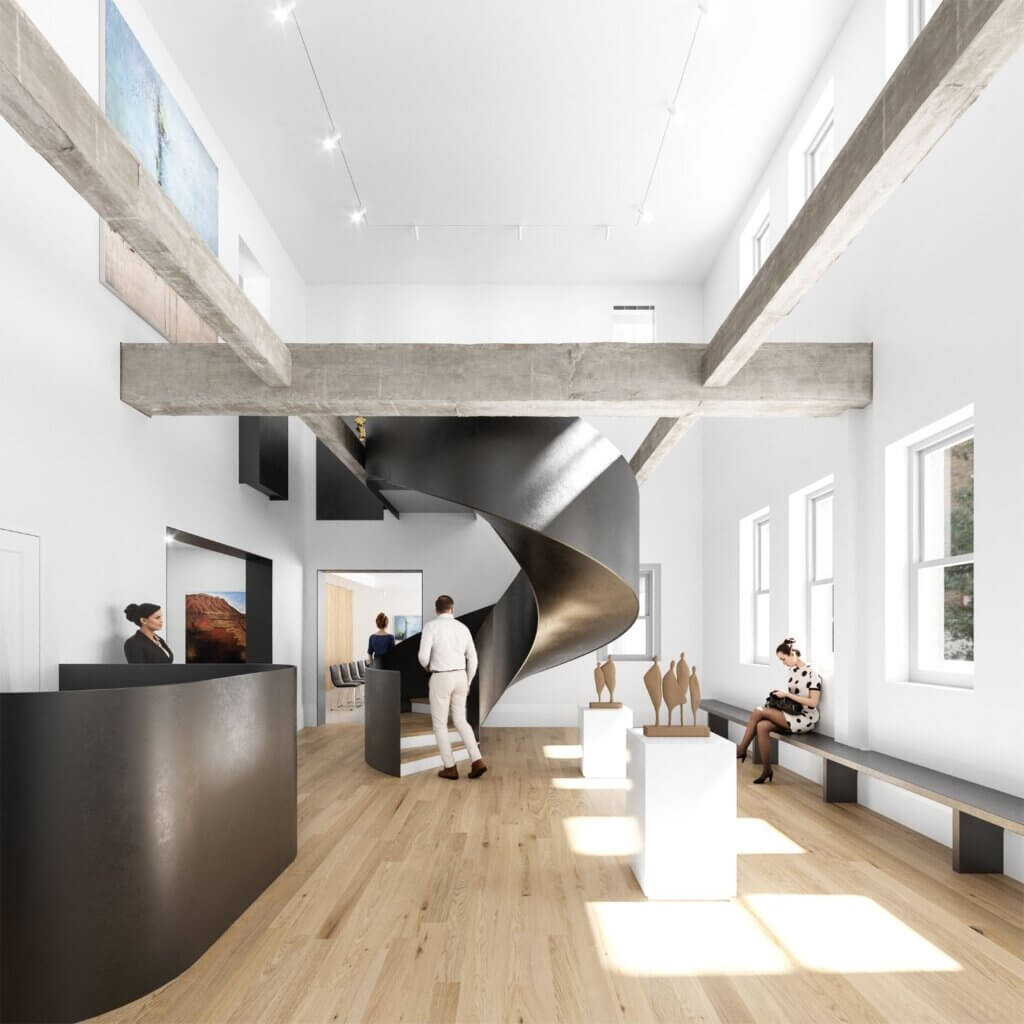 Forbes Visitor Information Centre


is on the move
If you've had ties with Forbes for more than 30 years (or had ties 30+ years ago), you will likely know about The Lachlan Vintage Village. It was an incredible attraction in its day, and a place that created fond memories for those who were fortunate enough to visit and play.
The site has been vacant for almost 20 years after it closed its doors and gates in 2004 but is now getting a second chance to welcome in visitors and locals alike.
The move will stir up many a memory for those who visited during its 40-year operation and give back a little nostalgia.
The Trigalana Woolshed, as it was once known, was the gateway to the rest of the "Village", housing the souvenir shop and the Black Ridge Restaurant, and is the main structure at the front of the site. It is being renovated to house the Forbes Visitor Information Centre in an ideal location, facing the Newell Highway, just south of the town centre.
The woolshed had 17 shearer's stands. It was originally part of the Trigalana Estate and was moved to its current site in the early 1970s as part of the concept to build the Vintage Village arena.
The Forbes Visitor Information Centre has been housed in the former Forbes Railway Station building since 1990/1991 when the then newly formed Forbes Railway Arts & Tourist Centre began trading and serving the visitors to Forbes in partnership with Council. The many volunteers of the Arts & Tourist Centre committee gave so much of their time over the 3 decades they operated to provide information services to those visiting Forbes, and selling their handmade craft items, homemade cooking and produce together with Forbes branded merchandise and souvenirs.
In 2021, the Forbes Railway Arts & Tourist Centre committee officially closed its books following the covid-19 pandemic, and Council took on sole management of the Centre.
And now, after over 30 years in the Forbes Railway Station, the team at the Forbes Visitor Information Centre is preparing for the relocation to the former Lachlan Vintage Village main building in 2023; some almost 48 years after its official opening on 17 May 1975.
The new Information Centre will provide its usual friendly information service by a dedicated team and offer a selection of local produce items alongside some "amazing" souvenirs and merchandise. There will also be some exciting exhibits and a small theatrette to learn more about Forbes, including the infamous bushranger, Ben Hall.
The kitchen and bar areas have been renovated and are waiting for someone to bring their special touch to create a unique dining experience. Expressions of Interest are now being sought for the operation of a restaurant/cafe in this premises. For more information, visit Forbes Shire Council's website.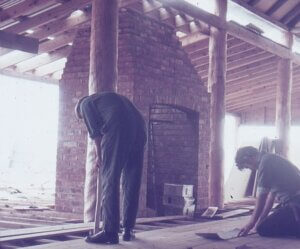 While the "village" part of the facility is not part of the works being undertaken, the renovation and reutilisation of the Trigalana Woolshed as the new Visitor Information Centre is an exciting move that many will be eager to see come to life. Council, and its Visitor Services team are eager to welcome you to the new facility once it opens in 2023.
The historic town attraction was a recreation of early life in Forbes as it would have been during the gold rush. It showcased demonstrations of trades of the time, the likes of authentic homesteads including Henry Lawson's childhood home, and the home of bushranger Ben Hall, a bank, school, gaol and a medical hall which housed an apothecary collection of over 2,000 pieces. There were also steam train rides, horse and cart rides and a gold mining/panning area.
To relive some memories of the Lachlan Vintage Village in its heyday, take a look at the

Lachlan Vintage Village 1975

page on Facebook.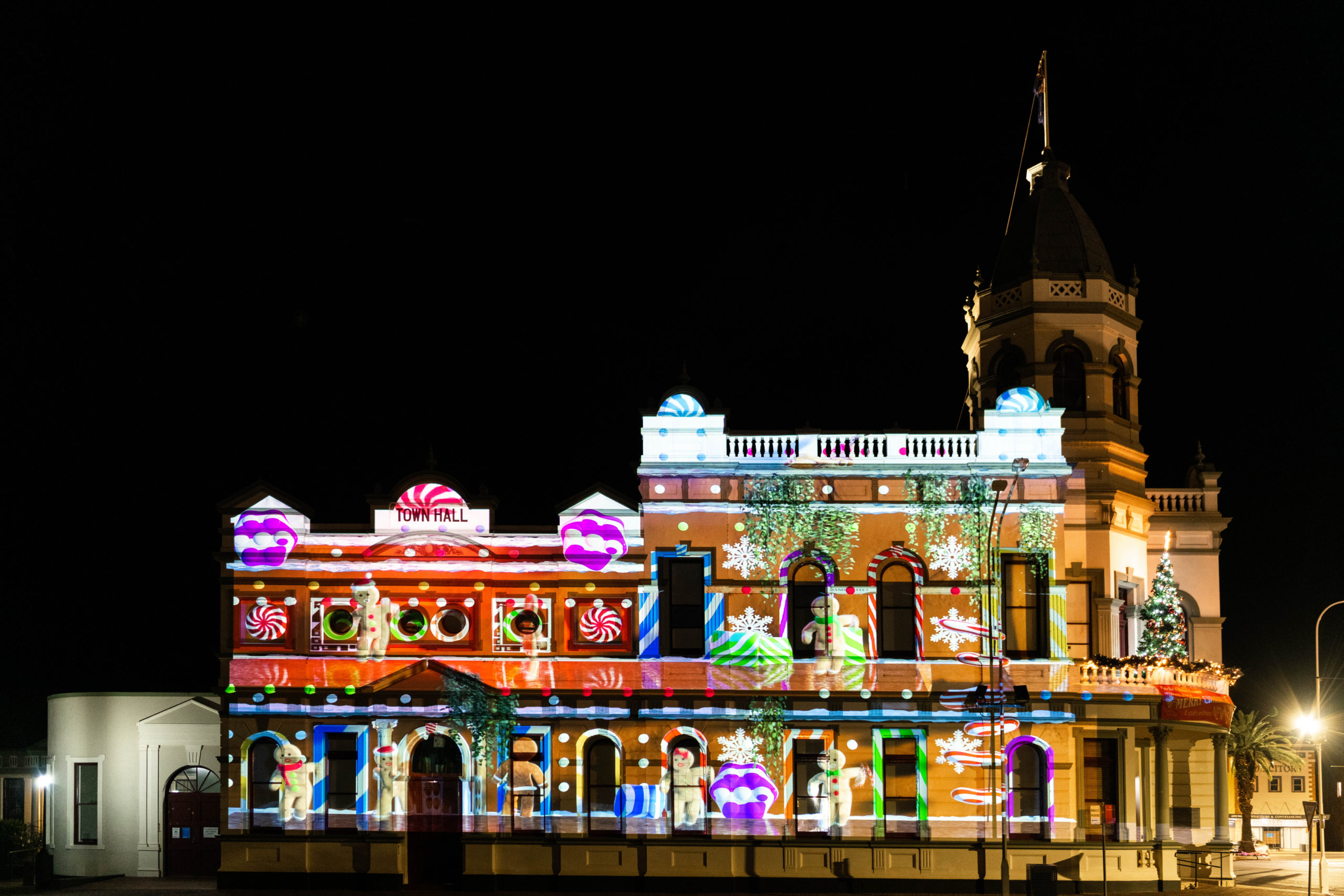 Why not find yourself at one of our amazing events this summer?
With so much on offer this season, there's no excuse for boredom these holidays…
Christmas events & attractions
Friday 2-Sunday 4 December 2022 | Friday 1pm-5pm; Saturday 9am-5pm, official opening 10.30am; Sunday 9am-5pm | Forbes Town Hall, Harold Street | $5 entry for viewing, primary aged children free entry
The Forbes Rotary Ipomoea Christmas Tree Festival is celebrating its 10th year of showcasing creative and inventive Christmas Trees by those in our communities. Come along and see some wonderful versions of the humble Christmas Tree.
If you wish to create and enter your own family, school, sporting or volunteer etc. group tree, contact Sue-anne Nixon on 6851 5197 or Helen Pitt on 0427 201 445. Trees should be delivered between 7am-10am on Friday 2 December. $5 to enter an exhibit to the Festival.
Greetings from the North Pole – Christmas story projection on Town Hall
7-26 December 2022 | 8.30pm-11.30pm| Forbes Town Hall & Council Administration Building, viewing from Harold Street/Victoria Park
Back by popular demand (but with an exciting new tale to tell), is Forbes' Christmas story projection.
This year's story is called "Greetings from the North Pole". The projection will show on the walls of the Forbes Town Hall and Administration building, and viewers can also tune in to an audio (music) track at FM88.7 through your car radio.
A wonderful addition to the town's Christmas lights displays!
Be sure to check it out!
Running from 7 December, and final showing will be Boxing Day evening.
Town Christmas lights
Speaking of Christmas lights, the main street of Forbes has had a few little face-lifts where the Christmas lights are concerned, thanks to our wonderful Urban Services crew!
There are also some beautiful light displays in Albion Park (Art Park) and Victoria Park (right across from Town Hall and its story projection), as well as up the main street (Lachlan) with lighting in the trees lining the street and decorations in the roundabouts.
Find It In AMAZING Forbes Christmas Carnival
Friday 9 December 2022 | 5pm-9pm | Forbes CBD, Templar and Rankin Streets
The Find It In AMAZING Forbes Christmas Carnival is part of the Christmas promotion run by the Forbes Business Chamber and local businesses. The Carnival is open for all to attend and will feature fun activities and games, entertainment, food and market stalls, and demonstrations.
It's also a chance for our local businesses to showcase their wonderful offerings available for all your Christmas shopping.
From 7 November, all purchases from participating business will earn an entry into the prize draws that will take place on Thursdays leading up to the Carnival, and the final draws will be held on Christmas Eve in Rankin Street.
The Carnival is supported by the Forbes Business Chamber, Forbes Shire Council, and local businesses.
Carols by Candlelight
Saturday 10 December 2022 | 7pm-10pm | Victoria Park, Harold Street
Come along for an evening of entertainment and relax, unwind and enjoy the spirit of Christmas.
Local performers; food, drinks and glow sticks for sale. BYO chair or blanket.
Cenwestours Forbes – Christmas light tours
Monday 19-Friday 23 December 2022 | $5-$15pp
Cenwestours is again offering their famous Christmas light tours to chauffeur you around to all the best and beautiful displays by some of our residents!
46 seats available each night across two buses, and 9 seats available in the limousine.
$5pp for a seat on the bus, $15pp for a seat in the limo – All proceeds to Forbes Can Assist.
Book directly with Cenwestours: 0439 520 087 or through their
Facebook page
.
School Holiday activities
Lots of different activities for the young ones (age limits apply) during the school holidays.
ELVIS events (part of the Parkes Elvis Festival)
The Parkes Elvis Festival is celebrating its 30th year and Amazing Forbes is once again proud to partner with the Festival to bring some wonderful events to our town for our guests to enjoy.
Amazing Forbes Street Breakfast
Friday 6 January 2023 | 7am-10am | Templar Street
Come say Aloha and get ready to Rock-A-Hula, Baby!
Get your Friday started right at the Amazing Forbes Street Breakfast. Entertainment includes local star Gracey Denham-Jones, "Shakin' Rick", and "Ray of Elvis". Plus, the Sydney Swing Katz return to Forbes to bring you some exciting swing dancing entertainment!
Entry is free – just buy your own brekky!
Lakeside Luau
Saturday 7 January 2023 | 6pm-10pm | Lions Park, Junction Street | Tickets $90 each available at

123tix.com.au

(booking fees apply)
This year Amazing Forbes is set to bring you those tropical vibes and a truly magical evening.
What is better on a balmy evening than to party by the water's edge? Be serenaded by the sweet soul sounds of local artist Georgia Sideris, get All Shook Up with "Pacific Elvis" AKA Johnny Angel, and enjoy an epic finale featuring The Australian Beach Boys Show. Plus, performances from Dance Like a Diva, and some Blue Hawaii inspired surprises!
All alongside your decadent two-course feast by Eat Your Greens.
Don't get Beach Boy Blue and be sure to get your tickets fast!
* Elvis PresleyTM © 2022 AGB EPE IP LLC

Australia Day celebrations
Wednesday 25-Thursday 26 January 2023 | various times | various locations
Various activities happening over the course of the day (and the night before), including the parade and Party in the Park. See
Forbes Shire Council's website
for all the details.
Bedgerabong Picnic Races
Saturday 11 February 2023 | Gates open 10am; First race 1pm | Bedgerabong Racecourse
The Bedgerabong Picnic Race Meet is a favourite event in the Forbes Shire with many locals, ex-pats and visitors alike returning year after year to enjoy a fun-filled day trackside.
More information will be released in the new year and closer to the date – be sure to keep your eye on their
Facebook page
and
website
for all the details and updates for the "B'Bong" Races!

Events and markets may be subject to change due to inclement weather or other circumstances beyond the control of the individual organisers.

Be sure to check out what else we have coming up over on our Events page…

Plan a country trip and Find Yourself… in amazing Forbes today!